SK ELE is a small, handy, 12-24V DC powered skimmer that can be used in sewers, pre-harvesting tanks, emulsified oil tanks.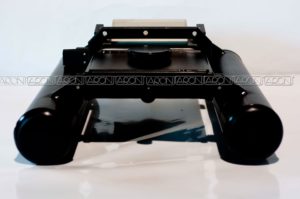 We supply the SK ELE Skimmer complete with a variable voltage power supply for rotating speed regulation, directly connected to 220V 50 Hz input line. The Skimmer is positioned on the water, the power supply is placed poolside, to manually operate the Skimmer.
SK ELE is an alternative to pneumatic Skimmer in all applications where continuous operation is not required for 24 hours and with moderate amounts of oil to be recovered, especially in narrow spaces or with round or squared pass-through wells. It has all the advantages of industrial skimmers: selective water-free oil recovery, resistant to sea water and industrial aggressive fluids thanks to the plastic materials, high manageability and reliability.
SK ELE Skimmer recovers up to 500 liters / hour of water free oil. If you have so far paid off the disposal of oily water at the cost of oil, with Skimmer SK ELE you can reduce costs, paying for oil only and saving on the water amount. The investment will be amortized in a short time.
Skimmer SK ELE's operation is very simple: the roller rotates and retrieves the oil from the water. The front scraper removes the oil from the drum surface and drives it into the front tub. From there the oil can be poured out through the front cap by lifting the Skimmer out of the tank or by pumping/bleeding it out through the upper lid of the pan, still leaving the Skimmer in the tank.
TECHNICAL DATA
Construction materials: entirely plastic
Oil recovery capacity: 500 liters / hour
Retrieved oil storage capacity: 4 liters
Power supply: 220V 50 Hz
Overall dimensions: 570x730mm H240mm
Dry Weight: 7 Kg
Ask for an estimate at info@aronsrl.com Specifying the type of oil to be retrieved, the estimated quantities and the size of the tub, you will be positively impressed by the excellent value for money of our Skimmer SK ELE!