DESCRIPTION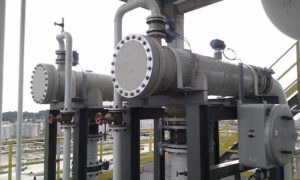 The "FREE-FLOW" static self-cleaning filter is suitable for retaining solid debris drained by fluid on plant conduits. It consists of an outer body and a filter element, entirely made of plastic. These grant both resistance to seawater and aggressive fluids and the complete absence of phenomena related to the obstruction of limestone. The filter works by using a line pressure of at least 2 bar and operates continuously without stopping the supply to the user, even during the self-cleaning phase which is automatically timed by a PLC control system.
Thanks to to the simple construction of the "FREE-FLOW" filter and the material chosen for its construction, maintenance is not required for long periods of time.
MATERIALS

Filter body

PP

PN2-10
Filter cartridge

PP

AISI316L, Duplex, Superduplex

Filtration degree>0,5mm

Filtration degree<0,5mm
FEATURES
Line sizes: from DN 75 to DN 500
Operating pressure: 2-10 bar
Flow rates: from 30 to 700 m3 / h (higher flow rates are provided for parallel mounting of multiple filters)
Minimum filtration rate 50micron
ADVANTAGES
Long lasting life
No maintenance inside or outside
continuos supply to user even during self-cleaning phase
filtering basket easy to dismantle and replace
Economy of operation
Self-cleaning is automatic timed
Lightweight
Can be mounted on the line in any position
DESCRIPTION OF OPERATION
NORMAL OPERATION
During the regular filtration phase, the fluid enters the inlet section, passes through the filter basket, deposes impurities and exits the output section to be sent to user. At this stage, the drain valve is closed.
DEBRIS DRAIN
At this stage, the drain valve is opened and the debris accumulated inside the basket expelled.
BACKWASHING
While the drain valve is still open, the filter starts the backwash phase, during which the fluid passes through the filter cartridge in reverse direction (external / internal = backwash) to normal operation (internal / External), thus promoting the detachment of any impurities still adhering to the filter inner surface.
END OF CLEANING CYCLE
After the backwashing phase, lasting for few seconds, the drain valve is closed and the filter returns to normal operation. All the cycle takes less than a minute and ensures continuity of flow to the user.
ASSEMBLY
The filter can be mounted in any position (vertical, horizontal or inclined) following the pipe path.
CONTROL PANEL
The filter is controlled by a PLC that automatically manages all operating phases.
It is powered by 220V or 380V and compressed air at 7 bar max.
On request, the control panel is supplied in accordance with Atex standards.
Self-cleaning Free-Flow Filter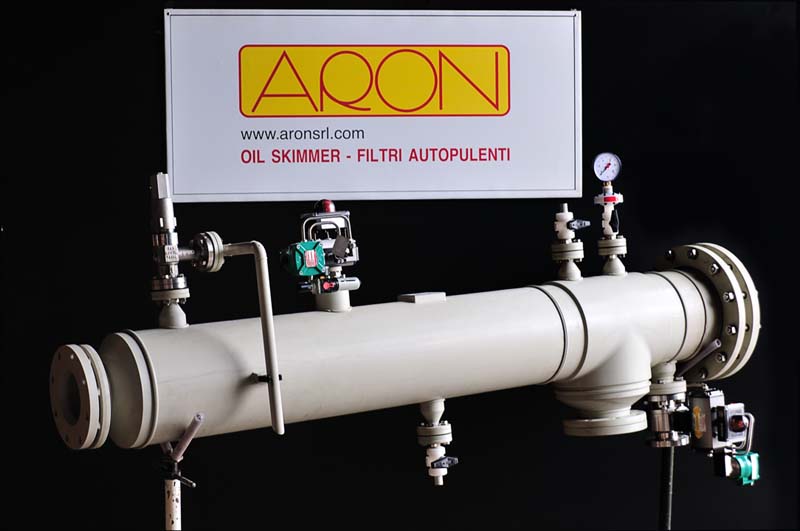 Skid with 7 self cleaning filters in parallel – Power plant
Explosion-proof filters in parallel
Filters in Refinery plant