Aron skimmers mod. SKL, weir Skimmer, is suitable for the recovery of supernatants of different nature, both oily and non-oily, surfactants and foams; it is made of plastic material that is resistant to sea water corrosion and aggressive industrial fluids, moreover it is suitable for applications with fixed or variable level basins.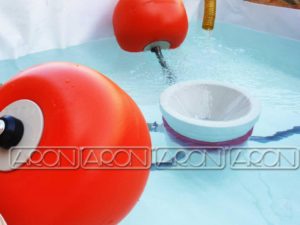 Skimmer SKL consists of a central polypropylene skimming mouth that is automatically placed on the free water surface, thanks to the special bellows system, which also guarantees optimum recovery even in case of rough water surface. The system is kept floating by three adjustable buoys. the pump intake is connected to the submerged part of the submersible mouth.
TECHNICAL DATA:
Recovery rate: 0-5 m³ / h
Overall Dimensions: 970x875mm H450mm
Weight: 9.2 kg
Connection: hose diameter Ø30 mm
Weir Skimmer with recovery capacity higher than 5 m3 / h are available upon request.